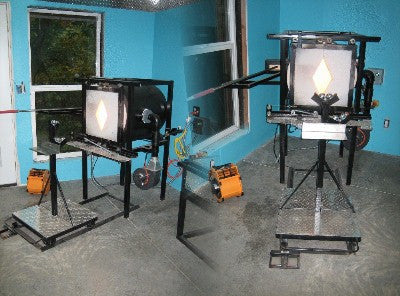 Glory Hole
$ 6,900.00
Mike built his first glory hole in 1993, and we still use the same one in our shop today.  The replaceable floor has been replaced due to use and popping glass off of pipes, otherwise the same build going strong. 

This a 14 inch glory hole 22 inches deep ,

There is a foot pedal to open and close the auto electric doors. you can have manual doors for the same price, the build time is about the same for the nested doors as the auto open doors.
The 1 1/2 inch tube welded steel frame holds the barrel. The barrel is 14 gauge rolled steel and welded, floor roller and yoke is included
I use the tried and true Giberson burner head along with a 245 cfm blower, a fine tune high pressure needle valve and an on/off ball valve for the burner operation.  It uses about 1 gallon of propane or natural gas an hour. The Unit comes with a 120 volt ASCO gas auto shut off valve system, if the power goes out the gas will shut off automatically and has to be reset manually by a push of a button.
The inside of the glory working space is 18 inches round and 22 inches deep.  The liner is 2 inches of 2800 degree frax for fast heat up, it is rigidized for safety with a thin layer of brick on the bottom to protect the frax from glass droppings. The heat ring is cast with a 14 inch hole from a high temp castable as are the doors, they are cast with stainless steel reinforcing.  These castings are pretty much bullet proof. The auto doors roll side to side with the aid of a 12 volt linear actuator to the full 14 inches of the glory hole, with 2 foot pedals to open/close the doors in 6 seconds or.
We can also add a pipe warmer for $300
 Rolling Yoke add on- $350